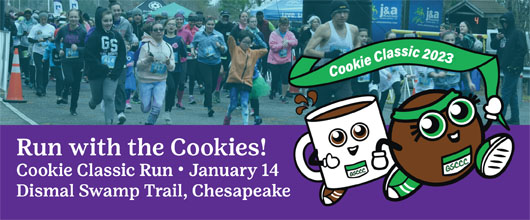 Since 2015, the Cookie Classic Run has been an annual event supporting the Girl Scouts of the Colonial Coast. Last year, more than 500 Girl Scouts and community members ran during the 6th annual Cookie Classic. This year, to ensure our community and participants stay safe, we will be offering the 2021 Cookie Classic Run VIRTUALLY only. Each participant completes the race at their own leisure by or on January 16, 2021.
Participants can sign up for a 5K or 1 mile and still earn some of their favorite Cookie Classic "swag". Registration includes finisher bib, certificate of completion, finisher patch for 1 mile, race T-shirt for 5K and finisher medal for 5K. Registration fees are $10 for the 1 mile race, $40 for the 5K race.
It's not too late, don't forget to buy some of your favorite holiday Girl Scout products while they're here for the season. Delicious treats like Thin Mints almonds and Hot Cajun Crunch trail mix are available for a limited time.
Register for the 2021 Cookie Classic and learn more about our Fall Product offerings at gsccc.org.